Philips Sonicare HX6511/50 EasyClean Review
On the whole, the Philips Sonicare HX6511/50 EasyClean has always been a product of some debate. On one side of the fence, you'll find those that claim it is simply too expensive to justify the features it offers. On the other side, some insists that the money more than justifies what's on offer – cleaning performance and battery life included. The thing is though, there have been so many heavy discounts slapped on the Philips Sonicare HX6511/50 EasyClean since its release that it may now be a case of both arguments coming together to reach a consensus.
Given the fact that 50% discounts are now relatively commonplace, has the Philips Sonicare HX6511/50 EasyClean emerged as a genuine best-buy brush?
Design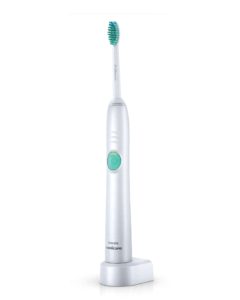 When taking into account the original price point of the brush, £80+ was way too much for this kind of design to be acceptable. It's not that there's anything specifically wrong with it, it's just the way in which it comes across as a little too clinical. It's the kind of standard-issue look you'd expect to see in a healthcare setting, with no real design tweaks to speak of.
Does this really matter? It depends who you ask, but with prices having come down so massively as of late, its design really isn't an issue at all. The glossy white body is broken up by the mint-green power button, along with the battery power LED indicator. There are no rubber grips or adornments, though a series of ridges to the back make for easy use and a firm grip. It's an extremely slender and light brush, making it easy to work with.
So as already mentioned, there's nothing specifically wrong with the design as such – it's just difficult to find anything exciting to say about it!
Cleaning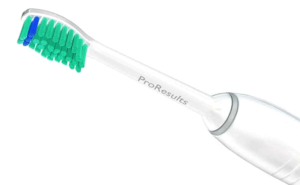 There's one particular feature about the Philips Sonicare HX6511/50 EasyClean that really is worth writing home about. It's called the 'Easy Start' mode, which means that instead of it just powering up at full speed right out of the box, it's instead programmed to start out at a lower power setting. Over the first 14 times it is used, the power slowly but surely increases to full power. The idea being that it helps both you and your teeth/gums get used to things slowly – brilliant for those making the switch from manual brushing for the first time. And if you don't need to use this Easy Start mode or would like to use it again, all the instructions for doing so are included in the manual supplied.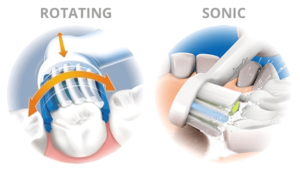 When put into action, the Philips Sonicare HX6511/50 EasyClean has only one cleaning mode, which is suitable for twice-daily cleaning for most people. Unsurprisingly, this often doesn't go down well with critics, who argue that the brush immediately becomes an unsuitable choice for those with sensitive teeth and gums, those who prefer whitening brush settings and so on. Nevertheless, it does provide an outstanding clean, thanks to a cleaning action that produces no less than 31,000 brush strokes per minute.
As with all premium brushes these days, there's an in-built quad-pacer to help ensure the user knows when to switch to a different area of the mouth while brushing. The Philips Sonicare HX6511/50 EasyClean emits an audible tone after 30, 60 and 90 seconds, ultimately shutting off at the 120-second mark to let you know the recommended brushing time has elapsed. If you want to carry on brushing, you'll need to hit the power button to start another cycle.
Philips claim that the Philips Sonicare HX6511/50 EasyClean can remove up to 100% more plaque than manual brushing, while at the same time contributing to better gum health within two weeks. In addition, this is a comparatively quiet brush and isn't nearly as intrusive as some of its closest rivals.
Battery Life
The battery life LED indicator will gradually change colour over time, indicating when and where the brush needs to be recharged. However, actually running out of juice at any time with the Philips Sonicare HX6511/50 EasyClean is unlikely, given the way in which its battery life is among the best in the business.
If used to brush twice a day for two minutes each time, the battery will go on doing its job for up to three weeks from a single charge. Which in turn means that when taking trips or going on holiday, it may not even be necessary to take the charger with you. Which leads onto another rather unfortunate point for the Philips Sonicare HX6511/50 EasyClean – the fact that it doesn't come with any kind of travel case. Not the end of the world of course, but a brush with such incredible portability could be enhanced massively with a simple travel case.
It's also worth mentioning that the Philips Sonicare HX6511/50 EasyClean charges significantly faster than many of its rivals, meaning that in the unlikely event that you do run out of power, you won't have to wait long to use it again.
Value For Money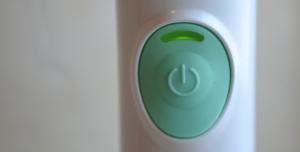 Rounding it all off with value for money, the truth is that it all comes down to where you buy it from and how much you pay for it. There's really no disputing the fact that when the Sonicare HX6511/50 EasyClean first hit the market, it was universally agreed that it was too expensive. Featuring just a single brush mode, a clinical design, no travel case and just one accessory, the £80+ price tag was pretty much unacceptable. It delivered a good clean, but was outperformed by plenty of rival products.
As of right now though, if you can find a retailer selling the Sonicare HX6511/50 EasyClean with a discount in the region of 50%, it represents a solid investment. The battery life alone is incredibly impressive and, as already mentioned, the Easy Start mode is great for those looking to get started with an electric toothbrush for the first time.
Of course, the one trade-off is the fact that you don't get a great deal with the Sonicare HX6511/50 EasyClean in terms of features and extras. In fact, if you have sensitive teeth or any other specific oral health needs, the single brush setting may not be up to the job. But if it's just a standard workhorse that gets the job done that you're after, chances are you won't be disappointed with what the Sonicare HX6511/50 EasyClean brings to the table.
Key Sellingpoints
Sonicare dynamic action effectively reaches deep between teeth and along the gum line
Safe for use with braces and dental restorations
Recommended brand of power toothbrushes by dental professionals
Can improve gum health in two weeks
Fits standard two-pin shaver socket (adapter required for three-pin socket)
Longer battery – up to three weeks use on a single full charge and 2 minute quadpacer interval timer encourages thorough brushing