When it comes to electric toothbrushes, you sometimes just need a workhorse to get the job done. You might not be won over by all the special features in the world, you might want a second brush for travel purposes or it could be that you're looking to try out your first electric toothbrush and aren't sure what to expect. In all such instances, you don't want to pay a fortune but you still want a quality product.
For these kinds of purposes, the Oral-B Pro 2000 ticks all the right boxes in spades. Delivering the same CrossAction technology as brushes three-times its price, there's really no more affordable way of stepping up your everyday oral hygiene regimen with a product endorsed by dentists worldwide. If you're looking to compare this electric toothbrush to the other top products available then please read this article.
Design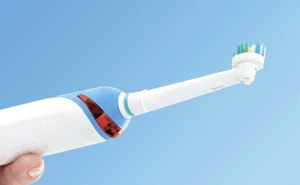 While the Pro 2000 may not look or feel like the most premium brush on the market, it also doesn't feel remotely cheap or flimsy. There's less high-grip rubber than you'd expect from a higher-end brush, but it is still incredibly comfortable to hold and to use. The raised grips prevent slippage and the light blue front panel adds a touch of vibrancy to the overall design.
There's a battery power icon and separate light to indicate charging, along with a raised power button toward the top. It's incredibly lightweight at just 130g and measures a slender 2.5cm in width, making it an easy and comfortable brush to work with. To the rear of the handle toward the top is the strip that lights up red when excessive pressure is placed on the teeth. The package features a CrossAction brush head, though there are endless different types of heads available from Oral-B to suit all needs and preferences.
There are a couple of places across the body of the brush where components meet and fractional gaps remain. Over time, they have a habit of harbouring and accumulating grime, though it's nothing an occasional brisk wipe can't take care of.
For a brush with such a low price point, the Pro 2000 scores very highly in terms of overall design.
Cleaning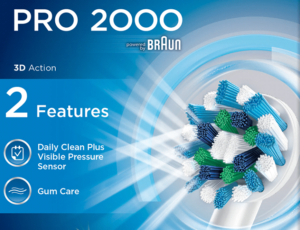 Of course, what matters above and beyond everything else is exactly how the Pro 2000 stacks up when put into use. Toward the lower end of the mid-range bracket, mixed results tend to be the standard from one brush to the next.
In the case of the Pro 2000, there are two cleaning modes to choose from. Push the power button once to enter Daily Cleaning mode, which is the standard setting suitable for most people. Another push will switch the brush into Gum Care mode, which is designed to massage and clean the gum-line more efficiently. There's no display to tell you which mode you're in, but this isn't an issue where there are only two different modes to choose from.
As you'd expect from any premium brush, the Oral-B Pro 2000 features an in-built 120-second timer, to let the user know exactly how long they've been brushing for. Not only this, but an audible alert is triggered after each 30 seconds, in order to prompt the user to move on to another area of the mouth. This is produced by a momentary change in oscillation, which results in an audible tone. The brush gives a final tone at the 120-second mark, though will not shut off unless the user hits the power button.
As already mentioned, there is also a clear illuminated indicator to warn the user that too much pressure is being applied to the teeth. When this happens, the speed of the brush slows down to help minimise damage, until the user once again continues with a gentler approach.
Oral-B claims that the clinically-proven 3D action of the Oral-B Pro 2000 can remove up to 100% more plaque with every brushing. And it's certainly true to say that after making the switch from a manual toothbrush to this entry-level electric, you probably won't believe what you've been missing out on all these years.
Battery Life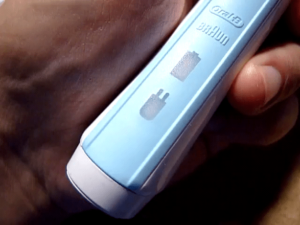 Investing in a brush for this kind of money usually means compromising on battery life. In the case of the Oral-B Pro 2000 however, you actually benefit from the same kind of battery performance you'd expect from models much higher up the same range.
Brushing twice daily for two minutes each time, the battery will usually last in the region of a week. If you go slightly over this from time to time, it'll be more like five days. The brush comes complete with a basic charging station and while charging times can be quite lengthy to say the least, it's not as if you'll be using it non-stop throughout the day or night. Let it charge while you sleep and it'll be ready for a full week's action the next morning.
Oral-B advises that the battery be depleted in full at least once every few months, in order to help it retain its maximum capacity.
Value For Money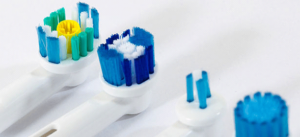 You'll always find critics out there who for a number of reasons aren't won over by brushes like the Oral-B Pro 2000. They cite the fact that it doesn't include a travel case, the way in which it's a slow charger and the distinct lack of cleaning modes are potential downsides. But what they also fail to point out is the fact that right now, the Oral-B Pro 2000 really is an absolute bargain.
At its original RRP of just under £70, it didn't represent a particularly appealing purchase at all. Frankly, this was just too much to ask for a brush that ranked somewhere in the middle of the scale. As of now though, the Oral-B Pro 2000 has been slashed in price by as much as 50% by a number of major retailers, making it an outright steal.
A pack of replacement brush heads will set you back around £13, which will provide you with four heads that are good for three months each – i.e. one full year per pack. The per-day usage cost of this highly-capable brush is no more than about 7p, which when you consider the benefits to your oral health in general is a seriously good deal.
Of course, it's entirely up to you whether you believe you need multiple cleaning modes, Bluetooth technology and all the other bells and whistles the highest-end brushes on the market feature. But if you're just looking for a high-quality brush that cleans well, goes the distance and isn't going to cost you much money, it's hard to find anything at all wrong with the Oral-B Pro 2000.