Oral-B Pro 4000 CrossAction Review
An extremely popular brush that sits right at the mid-reaches of the brand's collection, the Oral-B Pro 4000 CrossAction has recently seen some huge discounts come its way. The idea behind the Pro 4000 CrossAction was and is to deliver the highest-level quality and cleaning for the most affordable price possible. So what essentially did was take the design cues of the Pro 650 and meld them with higher-end technology, in order to put together a package featuring the best of all worlds.
And as far as we can see at least, they did a pretty good job on the whole too! If you're looking to compare this electric toothbrush to the other top products available then please read this article.
Design

It's relatively obvious that design (in terms of appearance) really wasn't the number one concern when coming up with the Pro 4000 CrossAction. Not that it doesn't look great, but it certainly hasn't got the kind of visual prowess you'd expect from higher-end market leaders. It has a wonderfully slender 3 cm thick handle, weighs approximately 130 g and has convenient plastic and rubber grips to give plenty of grip while in use. The only additional visual accent is a blue stripe down the front, which if nothing else at least makes it look like it was recently removed from a dentist's surgery.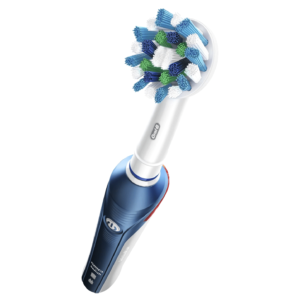 Along with the power button, there's a helpful LED that lights up if excessive pressure is put on the teeth while the brush is in use. This is basically the brush's way of telling you that you are brushing too aggressively and should use a gentler action. When you do, the light once again goes out. The raised power button takes a bit of effort to push in, though probably won't prove problematic for most.
Battery Life
When it comes to mid-range electric toothbrushes, manufacturers generally have to choose between larger, heavier brushes with great battery life, or smaller, sleeker designs with less ideal battery life. In the case of the Pro 4000 CrossAction, they went with the latter, though it's a trade-off that's anything but displeasing.
In this instance, the manufacturer claims that the Pro 4000 CrossAction is good for a full seven days, when used for 2 minutes each morning and another 2 each evening. However, chances are you'll stray at least slightly over this time on occasion, which makes 5 days a more realistic estimate. Not that this is entirely bad, but considering that fact that other brushes can last for a full fortnight from a single charge, it's not the best either.
On the plus side, it charges relatively quick so if you ever do find yourself out of juice, it won't take long for it to be up and running again. It's recommended that the brush not be kept on the charger constantly while not in use, as doing so can have a limiting effect on the battery's capacity.
Value For Money
If you find yourself put off by the £100+ RRP of the Pro 4000 CrossAction, don't be. The reason being that depending on who you shop with and the time of year, you won't have to pay even half this amount. And if you find the Oral-B Pro 4000 CrossAction for around the £50 mark, you're looking at a bargain.
The fact that it doesn't come with a travel case and that the battery life isn't great certainly dilute the initial appeal of the Oral-B Pro 4000 CrossAction. But at the same time, you have to remind yourself that you're looking to pay a very mid-range price for a highly capable brush. Not only this, but it also comes with a lengthy three-year warranty – £50 over the course of 36 months not exactly being a lot for better oral health.
Oral-B recommends that the brush heads be changed every three months. As three more are included in the box as standard, that's a full 9 months without having to pick up any new ones. On the whole, it actually costs a matter of pennies each day to own and operate an Oral-B Pro 4000 CrossAction, which is a small price to pay for better oral health.
This is a brand that comes highly recommended by dentists all over the world and has been built to last. It certainly wasn't what you'd call a bargain at its prior RRP, but now the price has come down to a more sensible level, it's a genuine best-buy deal. So if you can cope without a travel case and don't mind charging it regularly, chances are you won't be even slightly disappointed with the Oral-B Pro 4000 CrossAction.
Multiple Cleaning Modes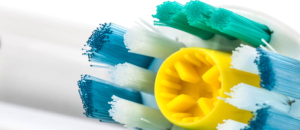 In order to suit all needs and preferences, the Pro 4000 CrossAction features four independent cleaning modes, which are:
Daily Clean. Perfect for everyday cleaning, twice daily.
Gum Care. Provides effective cleaning while at the same time focusing on the gum line for improved gum health.
Sensitive. Provides a gentler cleaning action for those with sensitive teeth and gums.
Whitening. Designed for stain removal and prevention, ultimately contributing to brighter, whiter teeth.
The package comes complete with different brush heads to be used in conjunction with the different cleaning modes for the best possible results.  The inclusion of several additional brush heads also means considerably longer before it becomes necessary to purchase replacements.

One slight disappointment with the Pro 4000 CrossAction is the way in which it does not have any kind of display to indicate which brush mode you are currently using. Pressing the power button once will start up the toothbrush in Daily Clean mode, with each subsequent push moving through the rest of the modes and subsequently stopping. The brush can also be stopped by holding the power button down for a short time. So while this isn't massively problematic, it does quite often lead to the user not being 100% sure which brush mode they have selected.
There's a built in timer to ensure you spend exactly as long as necessary cleaning your teeth and mouth. Daily Clean for example will alert you after 2 minutes of brushing, while Whitening mode will give you three minutes to get the job done. Whichever mode you choose, the Pro 4000 CrossAction will also alert you each time 25% of the time has passed, in order to let you know when to move on to a different area of your mouth. Unlike many, the brush doesn't actually shut off at the end of the cycle, but instead provides an audible alert to let you know that time has passed.