Philips Sonicare HX6311/07 Rechargeable Toothbrush for Kids Review
Slowly but surely, manufacturers are coining on to the fact that just because an electric toothbrush is for kids doesn't mean it has to be low quality. The simple fact of the matter is that as kids' mouths are fundamentally different to those of adults, they will always need specially designed oral health products. But at the same time, it's not to say that oral health products for kids need be designed as disposable. There are plenty of low-grade throwaway brushes on the kids' market already, but what about parents interested in something a little closer to the premium end of the scale?
The answer could very well lie in the Philips Sonicare HX6311/07 Rechargeable Toothbrush for Kids.
Quite simply, this one outstanding brush has been designed to go on doing what it does best for year after year. It's been manufactured to grow and evolve alongside your child, making it the only brush you'll need to invest in for around six years. Not only this, but it has been designed and manufactured in a manner that's guaranteed to encourage your kids to take an active interest in brushing, helping to nurture and instil positive habits from the earliest possible age.
Design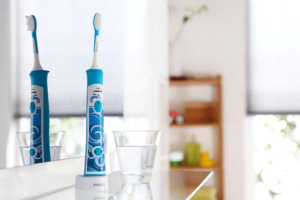 What's the best thing about the way the Philips Sonicare HX6311/07 Rechargeable Toothbrush for Kids has been designed? That's easy – it gives kids the chance to design it themselves! Not literally of course, but each brush comes supplied with a collection of 8 interchangeable stickers, which allow kids to choose their favourites and swap them around as they wish. The brush itself comes in a beautiful shade of blue, with two prominent buttons on the front for mode selection and power.
Designed for kids aged 4 and over, the handle has been made to provide a comfortable grip for kids of all ages – not to mention parents when helping younger kids brush. The back of the head of the brush is rubberised to protect fragile teeth from both impact and abrasion, while the anti-roll shape of the handle prevents falls and resulting damage. In addition, the flat rear surface of the brush allows it to be rested horizontally, in order to help younger kids learn how to apply the right amount of toothpaste.
The brush heads are inter-changeable and are available in two different sizes, in order to allow the Philips Sonicare HX6311/07 Rechargeable Toothbrush for Kids to grow alongside your child. Though bright and colourful, it is also extremely elegant and is guaranteed to look the part in any bathroom.
Performance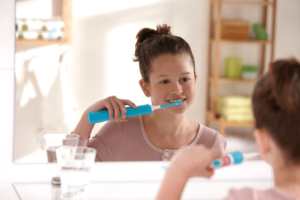 In terms of performance, the only thing you really need to know about Philips Sonicare HX6311/07 Rechargeable Toothbrush for Kids is the fact that more than 90% of dentists use products from this collection with their own kids. No electric toothbrush range for children carries more professional recommendations and endorsements than this – priceless peace of mind when caring for your kids' teeth!
Clinical trials have shown that the patented sonic action of the Philips Sonicare HX6311/07 Rechargeable Toothbrush for Kids can help remove up to 75% more plaque than brushing alone. Designed with kids' mouths in mind, the brush heads are comparatively soft and may therefore need replacing on a regular basis. Nevertheless, replacement brush heads are extremely affordable and represent outstanding value for money.

For younger kids, the Philips Sonicare HX6311/07 Rechargeable Toothbrush for Kids is less a toothbrush and more of an all-round teacher on the subject of good oral hygiene. Along with being incredibly fun to use, it features the unit KidTimer functionality. As it's often tricky to get younger kids to brush for the full two minutes as recommended, this in-built timer slowly but gradually increases brushing times over the first 90 days. Which means that by the time they're brushing for the full two minutes, chances are they won't even realise – it will have become second nature to them!
Along with this, there's also the addition of a KidPacer timer, which has been designed to ensure that all areas of the mouth are cleaned equally and thoroughly every time. After every 30 seconds, an audible alert prompts the child to move on to a different quadrant of their mouth, ultimately getting them into the habit of brushing their teeth equally without having to be prompted.
As for those power settings, the Philips Sonicare HX6311/07 Rechargeable Toothbrush for Kids features a low setting which is suitable for kids aged 4 and over, while the high setting is suitable for kids aged at least six. This way, it's the only electric toothbrush you're going to need for your kids for a long time. It's as simple as swapping the brush head to a larger size when the time comes, flipping the switch to the higher power setting and you're all set for several more years of outstanding performance.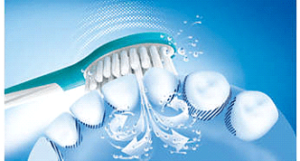 As the Philips Sonicare HX6311/07 Rechargeable Toothbrush for Kids is fully rechargeable, there's no need to invest in batteries at any time. It has a relatively average charging time, but also boasts the kind of battery life that's pretty much exclusive to Philips. From a single charge and when used in accordance with recommendations, you'll often be looking at two weeks or more before it needs to be juiced up again.
Value For Money
Putting all the pieces together, does the Philips Sonicare HX6311 represent good value for money? Well, considering the fact it might well keep your kids going for six years or more, a price of way less than £50 is more than worth paying. Replacement brush heads represent huge value for money in their own right, with the interchangeable stickers providing the option of continually refreshing and revamping the brush as a whole.
Not only does the Philips Sonicare HX6311 do an outstanding job cleaning kids' teeth, but it's also just the tool for helping nurture and encourage strong oral hygiene habits. From getting them to brush in the first place to improving brush times to generally making them more enthusiastic about getting the job done, the Philips Sonicare HX6311 really does get the job done. Some argue that it's a little too easy for kids to hit the settings button and switch the brush to the wrong mode, but this can be avoided with supervised brushing and certainly isn't a problem for older kids.
On the whole therefore, it's easy to see why the Philips Sonicare HX6311 is consistently rated as one of the best brushes for kids on the market. Introduced at the right age, it could be just the ticket for nurturing healthy and proactive oral hygiene habits for life.