Philips Sonicare DiamondClean Review
Exactly how smart can a toothbrush realistically get  As far as the folks over at Philips are concerned, the answer is the Sonicare DiamondClean electric toothbrush.
Right now, the market is well and truly flooded with all manner of weird and wonderful oral hygiene gadgets. And it's pretty safe to say that some are more useful than others. But when it comes to electric toothbrushes – or more importantly smart electric toothbrushes – is it really worth paying such high prices for the most up to date technology? Given the fact that the Philips Sonicare DiamondClean will set you back somewhere in the region of £150, is this really the kind of money worth splashing out on a toothbrush?
The answer is…yes – assuming you want to replicate that professional clean feeling at home, every single day. If you're looking to compare this electric toothbrush to the other top products available then please read this article.
Design
Taking a look at the design of the thing first of all, there's no denying that the Philips Sonicare DiamondClean really is an elegant piece of kit. As of 2016, the brush has been released in a wide variety of fetching colours, including black, metallic purple, pink and white. It features an attractive matte finish which is much easier to keep pristine than the usual shiny surfaces you might be used to.
The words that light up to indicate which setting you have chosen appear out of nowhere at the push of a button, as too does the green battery symbol to keep you informed of exactly how much how you have left. Adding to the elegance of the design even further, there are absolutely no sockets, plugs or ports to speak of, giving it a beautifully seamless appearance and total waterproofing. Which in turn means that when you're finished brushing, you can give it all a good clean without having to worry about damaging it.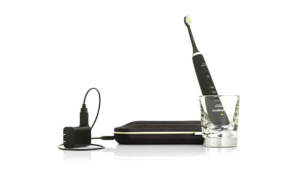 They've also done a fantastic job in keeping the Sonicare DiamondClean as light and comfortable to use as possible. It's not quite as lightweight as a manual toothbrush of course, but it's really not as if you'd ever expect it to be.  On the whole, it is pretty much impossible not to be impressed by the design of the Sonicare DiamondClean, which is in every way one of the best looking electric toothbrushes currently on the market.
Cleaning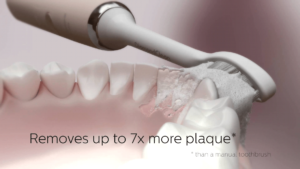 Of course, all of the above is relatively inconsequential if the Sonicare DiamondClean doesn't do a fantastic job when it comes to cleaning. And indeed it does – boasting five outstanding brushing programs, which are Clean, White, Polish, Gum care, and Sensitive. These have all been designed to get the job done in their own unique way – polish for example uses a pretty intensive action, while Sensitive goes easy on your teeth.
The manufacturer boasts of the Sonicare DiamondClean delivering no less than 62,000 brushstrokes in two minutes. Which suffice to say would be physically impossible with manual brushing, which usually averages out at about 350 per minute. Not only does the Sonicare DiamondClean automatically shut off after 2 minutes to ensure that you get a fully comprehensive clean each time, but it also vibrates every 30 seconds to remind you to move on to a different part of your mouth.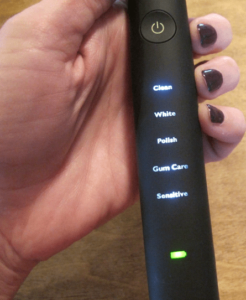 They also speak of the brush's potential to significantly whiten teeth within a week. The reason being that not only do those 62,000 strokes every minute do a real number on stains, but there's also the way in which the diamond-shaped tips of the bristles help get into places you might otherwise miss. Generally speaking, feedback among those specifically chasing brighter and whiter teeth have had nothing but incredible things to say about the Sonicare DiamondClean.
The sonic action of the Sonicare DiamondClean is also known to work wonders when it comes to gum health. Over the course of just 14 days, a noticeable improvement can be made to gum health simply by using the brush as normal, morning and night. The powerful cleaning action removes up to seven times more plaque than a manual toothbrush, while at the same time getting into plenty of places you would almost certainly miss with manual brushing. But just in case you wondered, it will still be necessary to continue flossing if making the switch to the Sonicare DiamondClean, as while it does an incredibly good job, it doesn't replace the added deep-cleaning effect of flossing.
It may take some getting used to as if you are not used to the way the Sonicare range works, chances are it will tickle your nose quite fiercely the first couple of times you use it. Not only this, but if you attempt to watch television while brushing…well, let's just say you are in for an interesting experience!
Value For Money
While it's safe to say that the Sonicare DiamondClean isn't exactly the cheapest toothbrush on the market, it is nonetheless considered one of the very best. The reason being that it represents a genuine and outstanding investment in your long-term oral health and will proudly go on doing its job for years. Even if you do spend £150 on it, this doesn't exactly work out expensive when considered over the course of two or three years.
In fact the only criticism that can be found when looking through reviews and testimonials published online is that of the price. But when you consider the fact that you really cannot put a price on the health of your teeth, the Sonicare DiamondClean from Philips really is a no-brainer.
If you can afford it, it is quite simply one of the best electric toothbrushes ever manufactured.
Charging And Battery Life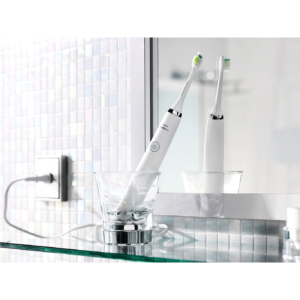 Wireless charging is only just beginning to make a name for itself in mobile phone territory, but has nonetheless been the industry standard for high-end electric toothbrushes for years. In the case of the Sonicare DiamondClean however, they've taken both practicality and sophistication to new heights.  Rather than using the usual docking station, it's simply a case of placing the toothbrush into an elegant glass that rests on a charging plinth.  Not only does this get the job done, but it really does look infinitely better than the uninspiring charging stations packaged with most electric toothbrushes.
The only downside would be transporting this charging station that looks a little like a whiskey glass around with you. Which is why it is good to see that Philips has addressed this minor issue, by including a separate charging travel case powered by Micro USB for total versatility and convenience. But at the same time, there's every chance you won't even need to take the travel charger with you at all. In tests, the Sonicare DiamondClean has consistently demonstrated the ability to hold onto its charge for no less than two full weeks, when used twice daily as recommended. This immediately positions it right at the top of the table, above and beyond most comparable rivals.