Brush-Baby Baby Sonic Electric Toothbrush Review
Is it ever too early to introduce children to electric toothbrushes? As far as the professionals are concerned, no – is really isn't! A growing contingency of dental experts worldwide are encouraging parents to begin introducing their children to electric toothbrushes and advanced oral hygiene in general from the earliest possible age. Tooth-brushing is something that should begin the moment baby's teeth begin to show through, but it is of course of the utmost importance to approach the job carefully, sensitively and in accordance with professional advice.
On the surface, the idea of using an electric toothbrush to clean a tiny baby's sensitive teeth may seem a little unusual. And indeed it was, prior to the release of the Brush-Baby BABYSONIC – the smallest and gentlest electric toothbrush ever manufactured. In fact, it is so gentle that it is recommended for use with babies from zero to 18 months old, along with toddlers aged 18 to 36 months old. It may be difficult to imagine making the switch to an electric toothbrush so early, but you can rest assured this is one switch from which there is no going back!
Design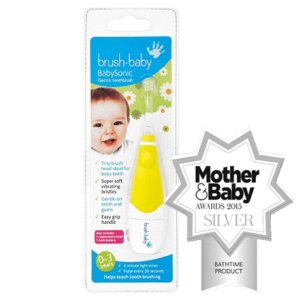 In terms of design, pretty much everything about the Brush-Baby BABYSONIC focuses on simplicity. Along with making it easy for parents to get the job done properly and with ease, it has also been designed with toddlers in mind. Just as soon as kids are capable of holding and using a brush for themselves, that's exactly what they should be doing.
The Brush-Baby BABYSONIC features a broad, easy-grip handle for maximum control and comfort while in use. It has been manufactured using strong and durable plastic, along with an extra-tiny and incredibly soft brush head for even the most sensitive teeth and gums. The pack also includes a second brush head for toddles aged 18 months to 36 months, in order to cater to the needs of your child perfectly.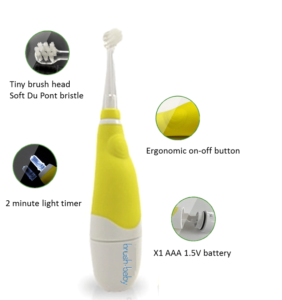 The appeal of the Brush-Baby BABYSONIC is further enhanced by a built-in light, which lights up the brush head when the brush is activated. It is powered by a single AAA battery for maximum convenience, it features just a single button for total simplicity and has been designed for easy cleaning between brushes.
It is available in one bright yellow and white variant, which never fails to prove a hit with both kids and adults alike!
Performance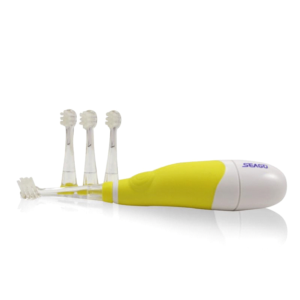 Having been designed with the most sensitive mouths in mind, the Brush-Baby BABYSONIC isn't nearly as powerful as a standard electric toothbrush. It operates by way of gentle vibrations, which are also light enough to care for sensitive teeth and gums but also powerful enough to help ensure a more thorough clean. It's possible that some very young babies may be somewhat freaked out by the vibrations at first, but most get used to them very quickly and actually enjoy the experience!
With just one button and a single power setting, it really couldn't be easier to use. As already touched upon earlier, one of the best things about the Brush-Baby BABYSONIC is the way in which it is compatible with two types of brush heads for two different age groups. The smaller brush is designed for ages zero to 18 months, while the large brush is good for toddlers from 18 to 36 months. By sticking with the same brush from birth to three years, you create a sense of familiarity with the brush itself which becomes a part of your child's life. Not only this, but to introduce kids to electric brushing from literally day one is to instil positive oral hygiene habits for life.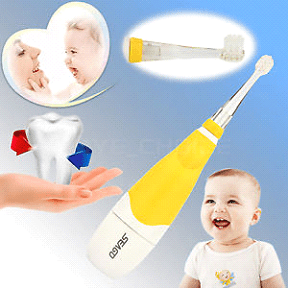 Despite the fact that the brush is so small, simple and affordable, it nonetheless features a two-minute timer to ensure the recommended brushing time is kept to. Not only this, but it even alerts the user every 30 seconds, as a reminder to move on to a different quadrant of the mouth. So once again, when it comes to getting kids into the best possible habits from the earliest possible age, the Brush-Baby BABYSONIC really does tick all the right boxes!
As mentioned, the Brush-Baby BABYSONIC is powered by one AAA battery which is included in the pack. The motor is so gentle that a single battery will most likely keep it running for several weeks, if used in accordance with recommended guidelines.
Value For Money
Weighing things up in terms of value for money, it's hard to compare the Brush-Baby BABYSONIC to any other brush for babies as it really is a true one of a kind. It is the smallest, gentlest and safest electric toothbrush of its kind ever released – perhaps the only electric toothbrush you'll ever come across for kids aged zero to 36 months.
Price-wise, the Brush-Baby BABYSONIC has an RRP of just $8.999 and pack of three replacement brush heads has an RRP of £3.50. Given the fact that you'll only be changing the heads once every few months, it really does represent incredible value for money. And that's especially so when considering the fact that this one brush for less than £9 will suit your kid's needs flawlessly for a full three years!
Satisfied customers from all over the world have spoken about how this amazing little brush has nurtured the interests of their kids – many of which simply want to brush like 'grown ups'. So along with getting the job done, the Brush-Baby BABYSONIC comes highly recommended as the kind of educational tool that can help instil positive oral hygiene habits for life.
…and that's something you really cannot put a price on!