Braun Oral-B Vitality Precision Clean Review
Contrary to popular belief, all electric toothbrushes are not in fact the same. Quite to the contrary in fact, which is why there will always be certain products on the market that retail for exponentially higher prices than others. That being said, there's far more to it than price alone, as while some of the more expensive devices on the market disappoint, there will always be those for much lower price points that are surprisingly effective.
Which begs the question – what's the case with the Braun Oral-B Vitality Precision Clean?
Well, generally speaking you probably would not expect a great deal for your money when only spending in the region of £20. Given the way in which there are electric toothbrushes on the market that sell for literally 10 times this amount, exactly what do you get for your £20?
In the case of the Braun Oral-B Vitality Precision Clean, the answer is – perhaps a little more than you bargained for!
Design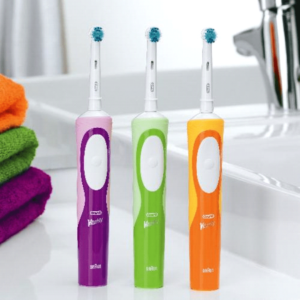 At a glance, you would probably find it difficult to distinguish the Braun Oral-B Vitality Precision Clean from a much more expensive electric toothbrush. In terms of its overall design, it definitely looks and feels the part. It is surprisingly lightweight, perfectly slender and features rubberised material behind the handle for maximum grip while in use. The brush as a whole is finished in white and a couple of shades of blue (other colours are now available), making it an attractive addition to pretty much any bathroom. It's pretty obvious when taking hold of the thing for the first time that it has been manufactured to the highest quality standards and isn't the kind of brush that is likely to fall apart or stop working out of the blue.
The package contains the device itself, one standard brush head and a simple charging stand. Nothing particularly exciting, but at the same time absolutely everything you will need to get started.
Key Features
Despite coming in at a relatively low price point, the Braun Oral-B Vitality Precision Clean still has a fair few key features and points of interest, which include:
The fact that it comes from the world's number one oral health care brand, recommended and used by dentists.
Removes up to twice as much plaque as a regular toothbrush, using a powerful oscillating and rotating action.
Includes a built in brushing timer to alert the user when 2 minutes have passed.
7,600 rotations per minute for optimum cleaning.
Interchangeable brush heads with a wide variety of replacements available
Performance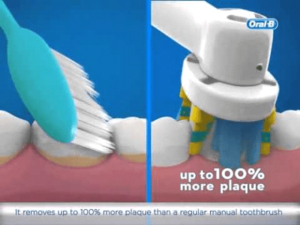 It's important to bear in mind from the get go that the Braun Oral-B Vitality Precision Clean has clearly been designed with simple performance in mind. It doesn't feature any of the additional bells and whistles you may expect from a more advanced brush. But at the same time, it isn't always necessary to go over the top with technology to achieve an outstanding clean.
For those who have never tried an electric toothbrush before and are thinking of making the switch, products like the Braun Oral-B Vitality Precision Clean really do tick all the right boxes. It's never a good idea to spend a fortune if you don't first know exactly what you want and need – the Braun Oral-B Vitality Precision Clean making an absolutely ideal introduction to the world of electric brushing.
The fact that there is only one setting keeps things nice and simple. The manufacturer has gone with an all-round daily cleaning mode, which is perfectly suitable for the vast majority of people. With approximately 7,600 oscillations per minute, it is powerful enough to get the job done, but at the same time gentle enough to avoid harming sensitive teeth and gums. Just one standard brush head is included in the box, but you can always swap this for any number of others from across the compatible range. Buy a selection, try them out and find out which one works best for you, without having to spend a fortune.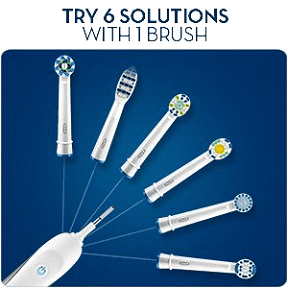 Clinical trials have shown that the oscillating and rotating action of the brush head combined with a pulsating feature can help remove up to 100% more plaque than manual brushing. In use, newcomers will probably find the Braun Oral-B Vitality Precision Clean particularly easy to get used to as it doesn't tickle or irritate nearly as many other comparable electric toothbrushes. The fact that it features a built-in timer is also a plus point, which ensures that the user knows exactly when they have been brushing for the recommended period of time. The brush simply shuts off after exactly 120 seconds, meaning you will need to hit the button again if you wish to carry on brushing. There's no 30-second prompt to move on to a different quadrant of the mouth, but at the same time, you wouldn't expect there to be in a brush that costs no more than about £20,
As for the battery, you can expect to get pretty much the same kind of performance from the Braun Oral-B Vitality Precision Clean as you would from most mid-range products from the same collection. It doesn't charge particularly fast, but just as long as you leave it overnight, it will be fully juiced by the morning. Used for the recommended 2 minutes twice a day, you will find that a single charge lasts between five and seven days. This will come down significantly if you brush more frequently, however.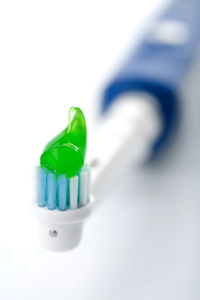 It's a bit of a shame that the Braun Oral-B Vitality Precision Clean doesn't come with any kind of travel case, but this has obviously been excluded to keep prices as low as possible. However, there is one particular fault with the Braun Oral-B Vitality Precision Clean that hasn't gone down particularly well with critics from the moment it was released. That fault being the way in which there is no light on the unit itself to indicate charging, battery level or really anything else across the board. Which in turn means that you have to use your own intuition when it comes to whether or not the brush is charged or is charging at any given time. It's a bit of a sore point, but again – we are talking about a brush that costs in the region of £20.
Value For Money
Bringing it all together, the one thing you absolutely cannot say about the Braun Oral-B Vitality Precision Clean is that it doesn't deliver truly outstanding value for money. Whether looking for a second brush for travel purposes, an introductory brush to get used to the idea of electric brushing or simply out for a great clean without having to spend a fortune, the Braun Oral-B Vitality Precision Clean really does hit the nail on the head. In addition, it is also ideally suited to those who would prefer not to have to deal with all manner of confusing and complicated functions and features – the majority of which they will probably never use.
When the Braun Oral-B Vitality Precision Clean first came out, a price point in the region of £50 was a little on the steep side. Right now, with the price closer to £20, it represents an entry-level bargain and one of the best brushes you will pick up for this kind of price.