Braun Oral-B Advance Power Kids Toothbrush Disney Cars Review
Let's face it – getting kids to take an interest in brushing their teeth isn't what you'd call an easy job. It's not as if they are old enough to understand the true importance of oral hygiene, which in turn means the best any parent can do is try to make the process as fun as possible. These days, there are literally thousands of different toothbrushes on the market that are specifically designed to appeal to kids. But at the same time, not all are as effective as one another when it comes to performance and generally getting the job done. Dentists are increasingly recommending that parents switch their kids to electric toothbrushes from a young age, but it can for obvious reasons be a tricky transition.
Could the Braun Oral-B Advance Power Kids Toothbrush Disney Cars make the process easier and more enjoyable for you and your own kids? In a word – absolutely!
Design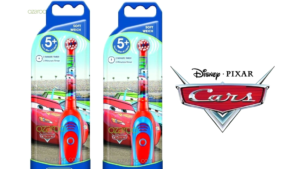 Unsurprisingly, the only thing kids are really concerned about when it comes to their choice of toothbrush is its design. Which is precisely why the Braun Oral-B Advance Power Kids Toothbrush Disney Cars sports the kind of design that would be immediately familiar to kids and adults alike. Based on the hit movie by the same name, the brushes are presented in a beautifully bright and colourful blue and red scheme, along with an image of two cars from the movie on the brush head itself. Even the brush head has been designed with the same colours as the rest of the device to bring the whole thing together.
In terms of build quality, it's fair to say that it doesn't exactly come across as a piece of premium hardware. But at the same time, it's not the kind of brush that is designed to last for several years. The heads can be replaced, but brushes like the Braun Oral-B Advance Power Kids Toothbrush Disney Cars are effectively temporary investments – something that isn't the end of the world when paying less than £15 for the privilege.
Everything about the brush has been designed with kids' hands in mind, making it easy to grip and hold onto while in use. And if your child happens to prefer other characters from the movie, replacement brush heads are available in a wide variety of designs.
Performance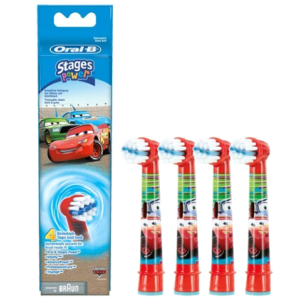 When it comes to putting the Braun Oral-B Advance Power Kids Toothbrush Disney Cars to practical use, it certainly delivers a lot more than you would expect for the money. First of all, picking up any product from this particular range will give you access to a Disney-themed timer app, which can be downloaded at any time. The app has been designed to encourage children to brush while watching the video at the same time, ultimately encouraging them to brush more regularly and for the recommended 2 minutes each time. Along with this, the brush itself features a built in two-minute timer, which is likewise extremely helpful in giving children an idea of exactly how long they should be brushing for each time.
The head of the brush is extremely soft and may therefore require replacing more often than a harder brush head. The oscillating action is comparatively gentle, though at the same time guarantees much more effective plaque removal than a standard toothbrush. Not only this, but the manufacturer claims that toothbrushes from this particular range encourage 90% of kids to brush longer and more frequently than they otherwise would.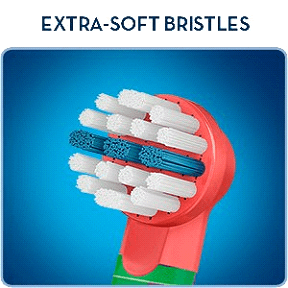 Given the price point of the Braun Oral-B Advance Power Kids Toothbrush Disney Cars, it should come as no surprise to learn that the brush is not rechargeable. Instead, it is powered by two AA batteries, which will usually last for several weeks or months at least. This makes it an extremely convenient brush to take on journeys or holidays, without having to worry about taking charging units along for the ride.
As something of a training tool to encourage kids to take an active interest in their oral health, the Braun Oral-B Advance Power Kids Toothbrush Disney Cars seems to score top marks with parents all over the world. Everything about the brush has been designed to introduce kids to both electric toothbrushes in general and the importance of maintaining oral health and hygiene. It is suitable for kids as young as three-years-old, though of course should only ever be used under the watch of a parent or guardian.
Value For Money
Right now, it is perfectly possible to pick up this cute and colourful brush for no more than around £10 to £15. Which in turn means that while it may not be what most would consider to be a premium product, it is simply outstanding for the purpose for which it was intended. It is designed and manufactured by the single most respected and recommended dental hygiene authority in the world and has been proven to encourage kids to brush more thoroughly and frequently than they otherwise would.
The fact that it can also be used alongside a specially designed app also adds to the appeal, not to mention the nurturing of positive habits in children. It provides an excellent clean, it is easy to use, it is extremely economical to operate and it could potentially make brushing activity your child actually enjoys. And of course, the fact that the interchangeable heads feature different characters from the movie Cars means you can keep things fresh and exciting long-term.
Considering the fact that you can benefit from all this for £15 or less, it is really impossible to say that the Braun Oral-B Advance Power Kids Toothbrush Disney Cars represents anything less than truly outstanding value for money.